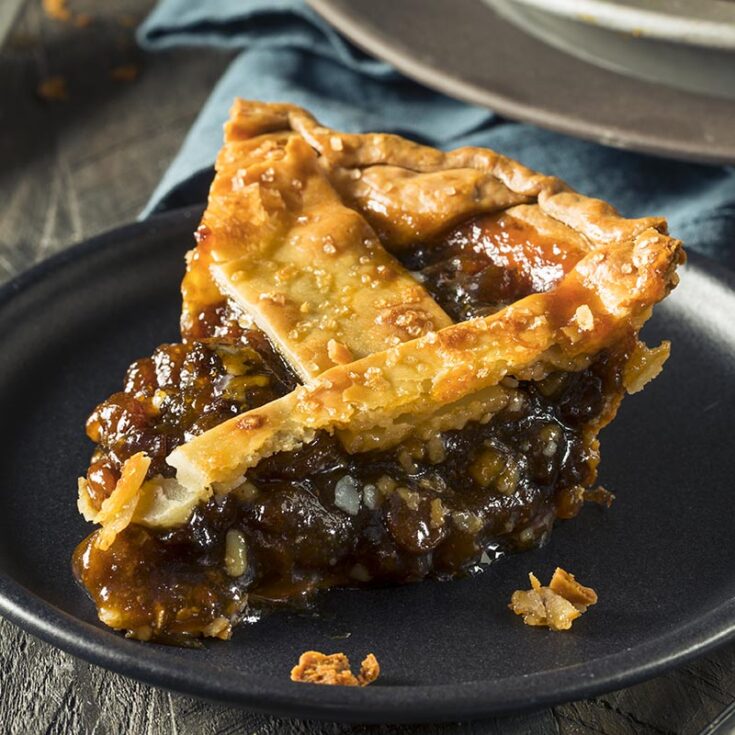 Yield:

makes approximately 8 pints
Green Tomato Mincemeat
This sweet holiday treat has been a family favourite for more than 40 years. Fill a pie, spoon it over ice cream, or enjoy it in bite-size tarts.
Ingredients
6-8 green, unripe tomatoes, finely chopped and undrained (should yield 8 cups)
apple juice (see instructions for quantity)
6-8 apples, unpeeled, cored, and finely chopped (should yield 8 cups)
2 lbs raisins (approx. 8 cups)
1 lb dates, chopped
2 cups brown sugar, firmly packed
1 1/3 cups apple cider vinegar
1 tablespoon cinnamon
3/4 teaspoon ground allspice
1 teaspoon ground cloves
1/4 teaspoon black pepper
1 teaspoon sea salt
2/3 cups coconut oil
Instructions
Finely chop (or coarsely grind) the tomatoes and apples, placing each in a separate bowl and setting aside.
Measure out 8 cups of the ground tomatoes and place in a colander to drain, also measuring how much liquid is drained off. Return tomato pieces to the bowl and add an equal amount of apple juice as was drained.
Place all remaining ingredients except for the coconut oil in a large stockpot or Dutch oven. Bring to a boil over medium-high heat, then reduce heat and simmer, stirring frequently, until thick and flavours are blended, 1-3 hours. The mixture will reduce by about one-third.
Add coconut oil and stir well.
To store, either spoon into freezer containers and label well OR pack the mixture into hot, sterilized, pint-sized mason jars and process for 25 minutes in a boiling hot water bath.