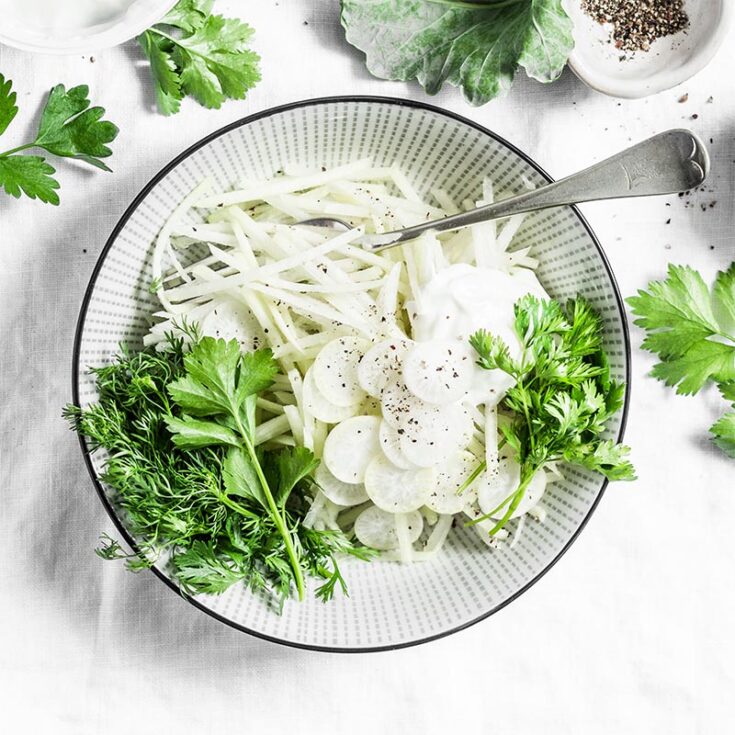 Yield:

serves 5-6
"Any Kohl"-slaw
This "kohl-slaw" is a great way to feature any and all members of the kohl family: broccoli stems, kohlrabi, and cabbage, for example.
Ingredients
For the slaw
any kohl vegetables, shredded, 4-5 cups (broccoli stems, kohlrabi, and cabbage work particularly well)
2 large carrots, peeled and shredded (optional)
2 green onions (optional)
1/2 teaspoon sea salt
fresh herbs, for garnish
For the dressing
1 cup mayonnaise
1/2 teaspoon sea salt
1/4 teaspoon coarsely ground black pepper
3 tablespoons evaporated cane sugar or honey
1/4 cup apple cider vinegar or plain kombucha
Instructions
Toss all the shredded vegetables in a large bowl with the salt and set aside.
Make the dressing by whisking the mayonnaise, salt, pepper, sugar, and apple cider vinegar until absolutely smooth.
Pour half of the dressing over the shredded vegetables and toss to coat evenly, then add the remaining dressing as desired.
Serve immediately or chill for up to 12 hours.