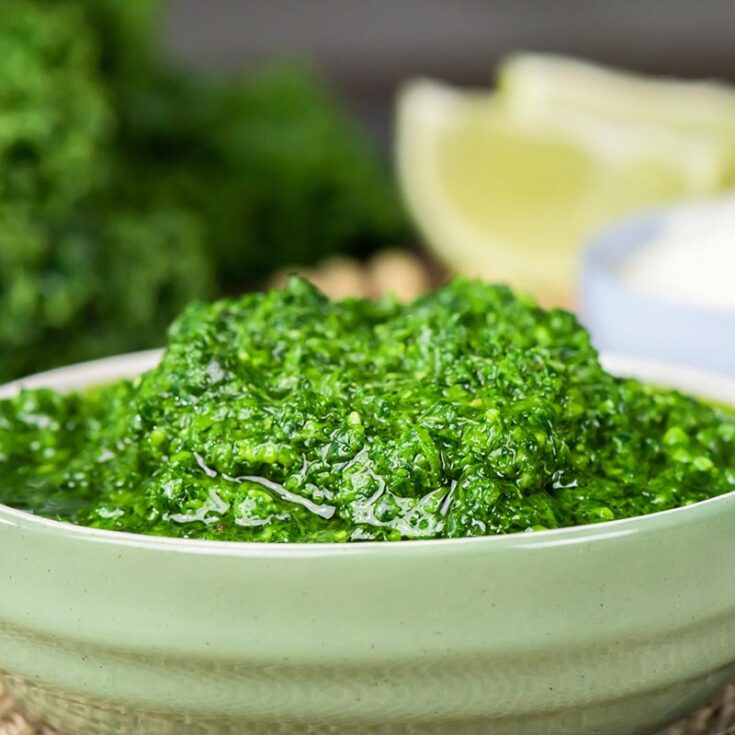 Yield:

Makes 3 to 3-1/2 cups
Garlic Scape Pesto
Garlic scapes provide both the green and the garlic in this simple, delicious pesto.
Ingredients
10 to 12 garlic scapes
3/4 cup walnuts or pecans, chopped
3/4 cup parmesan cheese, grated
1/2 cup extra virgin olive oil
1/16 teaspoon ground black pepper
Instructions
Remove the head from the scapes, then chop the stems into 1"-2" pieces.
Place in a food processor along with the nuts and the parmesan cheese.
Grind until the mixture is coarsely chopped but the pieces are fairly equal in size.
With the motor still running, slowly drizzle the oil in through the feed tube until all the oil has been incorporated.
Continue grinding until your desired texture is reached. I prefer the pesto fairly smooth and just a bit grainy, while others prefer it much more coarse.
Serve immediately or place in the refrigerator in an airtight container for up to 1 week.
Notes
This is an extremely forgiving and flexible recipe. The quantities listed are the way our family likes it, but you can change the ratios in any way you like. Also, use any nuts you have on hand -- almonds, pistachios, pine nuts, hazelnuts, or even sunflower seeds all work extremely well. Walnuts and pecans just happen to be our favorite.