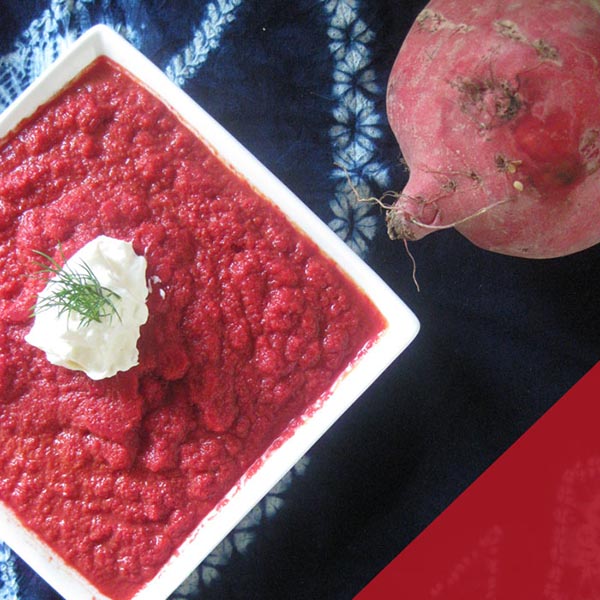 Yield:

serves 6-8
Any Beet Borscht
Nourishing beets, cabbage, and beef broth combine to create this flavourful soup - it's comfort food at its best. Golden beets and chioggia (candy cane) beets work equally well in this savoury recipe.
Ingredients
3 tablespoons butter
1 large onion, finely chopped
2 cloves garlic, finely minced
1 1/2 – 2 cups finely shredded cabbage
2-3 large beets or 4-5 medium beets (about 1 1/2 lbs), trimmed, peeled, and finely grated
1 tablespoon raw sugar or honey
2 cups peeled, crushed tomatoes, fresh or canned
1/8 cup red wine vinegar
4 cups beef stock
salt and pepper, to taste
Instructions
Melt butter over medium-high heat in a medium stockpot or Dutch oven. Add the onion. Sauté until the onion is wilted, then add the garlic and cabbage. Continue cooking, stirring occasionally, until the cabbage is wilted.
Stir the beets and honey into the cabbage and continue to sauté for 1-2 minutes to slightly caramelize both the beets and the honey. Add the tomatoes, vinegar, and broth, along with the salt and pepper if desired. Bring to a boil, then simmer for 20 minutes.
When the beets and cabbage are soft, the borscht is ready. You may serve it hot or chilled, puréed or straight from the pot.

To Serve

To serve, top with sour cream and fresh dill fronds and serve with rustic dumplings or boiled potatoes. It's fantastic as a first course or a side on the holiday table at Thanksgiving or Christmas.
Notes
To serve with shreds or puréed? Here in Foxfire Farms kitchen, we like it "as is" with the beets and cabbage distinctly shredded when it's served hot, but puréed if it's served cold. Try it both ways and serve to your taste!